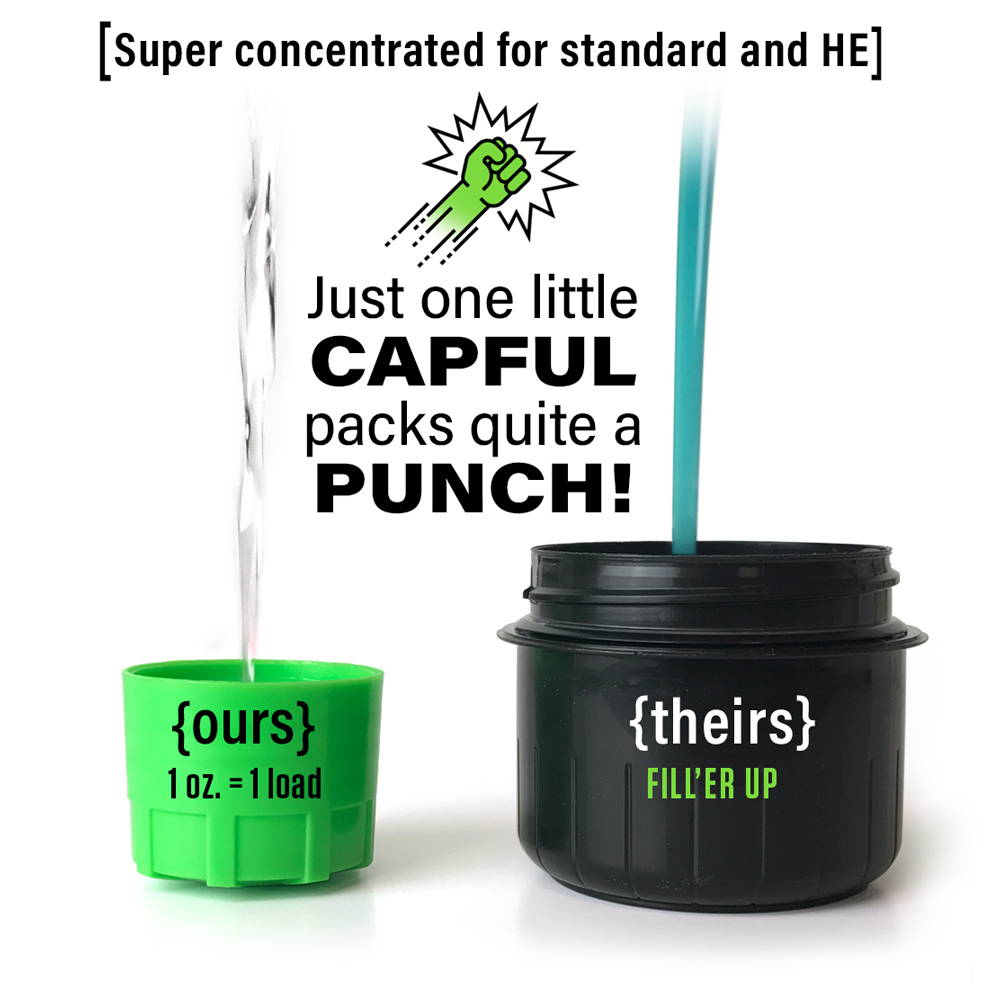 Sweat X Sport: Advanced Detergents for Modern Performance Fabrics.
When it comes to next-to-skin layers, we all have our favorites. Maybe it's your go-to race shirt, lightest workout shorts, warmest thermal bottoms, or best yoga leggings. These choice items stay in a tight rotation, at least for a while. Then the favorites fade; the minute they gain some funk, they lose that luster. If you've ever bemoaned the lasting stink and short shelf life of your pricey, preferred performance wear, it's time to rethink your hygiene habits—starting with your detergent. Yes, your laundry detergent.

Consider a conventional detergent. On a molecular level, it's designed to clean the larger strands and pores of cotton fabrics. So what about the tighter, screenlike weave of a poly-based technical layer? It just wipes off the surface. Once the synthetic fabric does its job wicking moisture and drying, all the odor-causing, stain-creating, skin-irritating bacteria living in the oil from your sweat stays in those tighter fibers. At best, the thick, gooey stuff will only mask those odors.
Sweat-X Sport Detergent goes deeper. It's formulated with tiny molecules and active organic ingredients (which are nontoxic and biodegradable) to penetrate much smaller pores of all types of fabrics. By utilizing NANOVASIVE™ technology, the low surface tension of the super-thin, super-concentrated liquid lifts stain particles and dislodges embedded sweat beads and related odors. The process of exfoliating harmful bacteria extends your layer's life and renews its performance.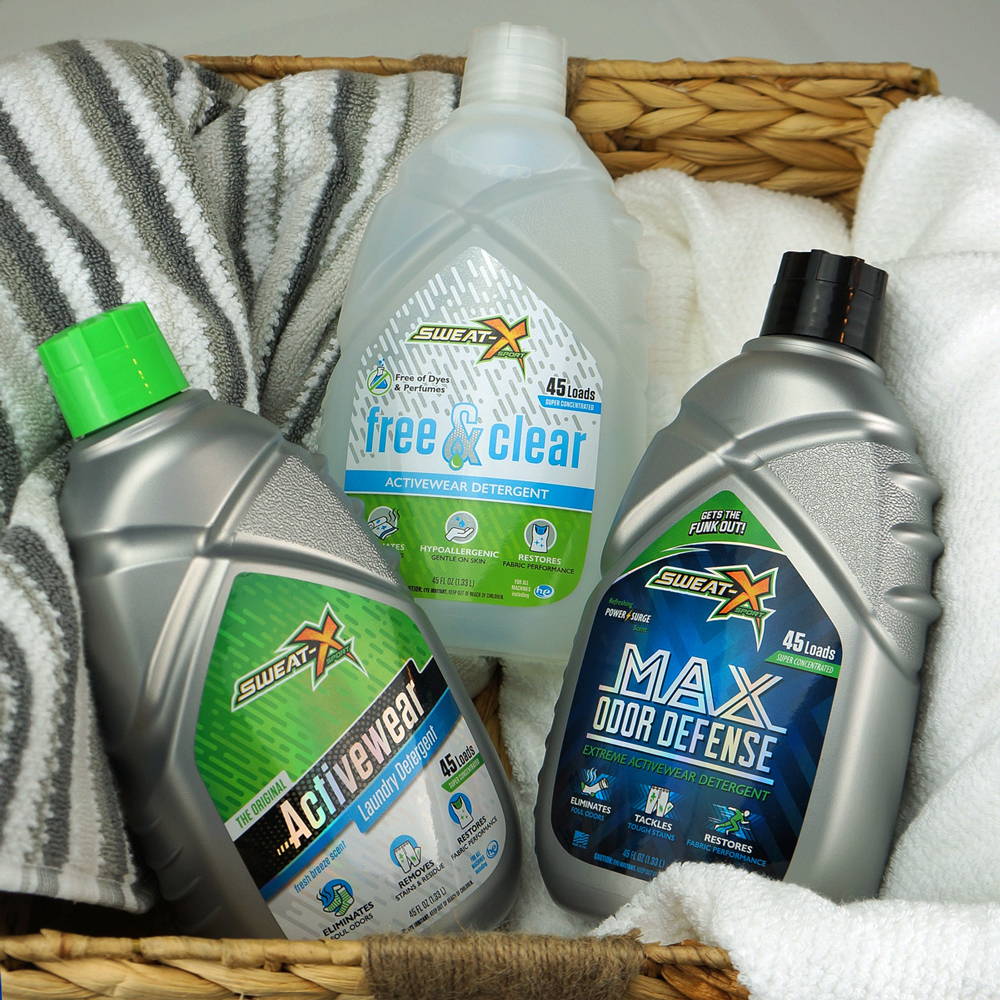 With three specialized options, we have all the bases covered.
Our Original Activewear detergent is a powerful cleaner specially formulated to remove dirt, sweat, and body oils from technical activewear (and household) fabrics. Max Odor Defense is the next level up, specifically designed to combat tough odors, penetrating deep into the fabric to eliminate even the most stubborn smells and worst stains—grass, clay, mud, and blood. Then there's Free & Clear, a fragrance-free and dye-free detergent that's perfect for high-exertion outdoor athletes with sensitive skin or allergies. It's gentle on the skin and, being free of harsh chemicals, allows you to wash your activewear, removing the foulest stenches and toughest stains, without worrying about irritation or other reactions.
It gets better. Sweat-X Free & Clear is the first laundry detergent CERTIFIED asthma & allergy friendly® by the Asthma and Allergy Foundation of America. You can also rest easy with an environmentally friendly detergent that handles a full load with only one ounce needed per wash. Plus, its antistatic qualities mean no fabric softeners or dryer sheets are required.
Most important, bringing even a single favorite layer back from the crypt means less landfill waste and more life for the products that push you outdoors.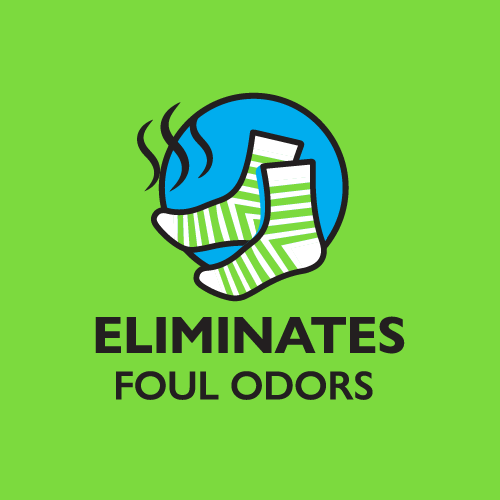 ELIMINATES SWEAT RELATED FUNK & ODOR from technical fabrics and activewear.
Specially designed to LIFT & REMOVE difficult stains such as: grass, clay, mud and blood.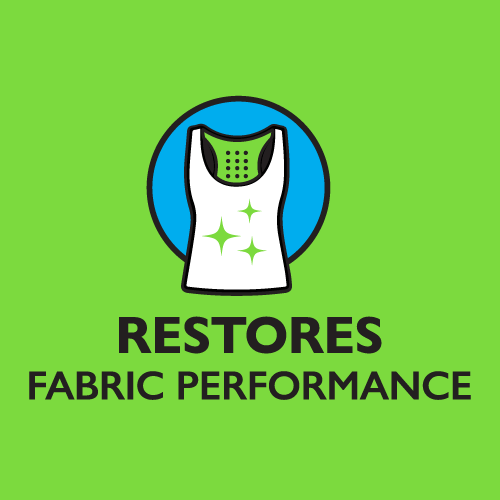 EXFOLIATES SWEAT BEADS, OILS AND RESIDUE trapped in fabrics to restore performance.
NON-TOXIC, BIODEGRADABLE formula that is gentle on fabric and anti-static requiring no fabric softener.

Founded in 2012, Renegade Brands started with an innovative, proprietary cleaning formula that noticeably outperformed all other laundry detergents in the removal of odors and stains, particularly from the advanced technical fabrics that were increasingly becoming standard in athletic wear. Thus, our brand Sweat X Sport was established and launched nationwide into the consumer sports market.

Sweat X deploys NANOVASIVE™ technology that exfoliates stains and sweat beads known to cause odor in uniforms, activewear, and all household fabrics. Sweat X is biodegradable and non-toxic with no adverse dermal impact.